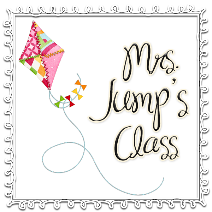 I think we can all agree that Deanna Jump is a rock-star in the world of teaching! She is an absolutely masterful kindergarten teacher and her units are superb! Deanna has offered to give away two products from her TpT store... any two products you choose! How exciting!
To win this contest, here is what you must do:
1. Follow my blog:
One Extra Degree
2. Follow Deanna's blog:
Mrs. Jump's Class
3. Follow my TPT store:
One Extra Degree TPT Store
4. Follow Deanna's TPT store:
Deanna Jump's TPT Store
5. Leave a comment for each of #1-4 indicating that you follow.
6. Re-post this on your blog and comment below with a link for an extra entry!
I will randomly pick a winner on Sunday, March 6th. Good luck!
I also want to throw in a plug here for a new blog:
Oh' Boy 3rd Grade
! She was thoughtful enough to give a shout out about my blog, so I wanted to return the favor! Maybe I'm biased since she's posting pictures of what she's doing with my Chris Van Allsburg Author Study, but I seriously can't wait to see the ideas she posts. Definitely loving her spin on the unit and her adorable To-Do List. Check it out!